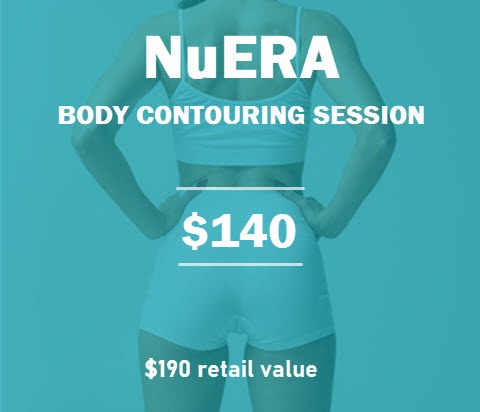 Want a Discount on Your Next Visit?
Body Contouring & Skin Tightening
Atlanta Colonic & Massage and Ageless Beauty Spa is proud to welcome Susan Matt and The Refined Body! This amazing spa offers non-invasive body contouring, fat reduction and skin tightening using the latest, most advanced radio frequency technology. We offer sophisticated, state-of-the-art, FDA-approved, NuEra Tight technology that naturally stimulates collagen and stem cell production – which dramatically tightens the skin, contours the body and reduces fat cell volume.

Loose, sagging skin and excess fat cells – whether on the face or body – can add years to a person's appearance. Heredity, aging, weight fluctuation, environmental factors, lifestyle choices, hormone changes, and even illness can all contribute to the loss of tightness and tone in the skin. NuEra Tight is safe and effective for almost every area of the face and body, and is ideal for firming facial skin, toning abs, reducing cellulite, slimming thighs, lifting the buttocks, and even getting rid of love handles.
If you would like to turn back the clock, restore youthful skin smoothness, and refine your natural body – all with NO surgery, NO pain & NO downtime – schedule an appointment at The Refined Body today!
Learn More